For clients wishing to install our hygienic wall linings or ceilings using their own labour force, we are happy to supply the same high quality products that we fit ourselves, along with instructions on how to achieve the best results.
As well as standard white, we also offer subtle pastel and high gloss shades.  Samples available on request.
Our easy-to-follow price list can be read in conjunction with the simple sketch diagram shown on this page to indicate where and how the components are likely to be used.  For guidance, we would recommend that you use 5 tubes of adhesive for a 2.4m high sheet and 6 tubes for a 3m high sheet.  If preferred, we can provide a 2 part adhesive (more information available on request) for an all-over adhesion.
If you need help or advice with regards to your own particular project, we will be pleased to assist you in any way we can.  Alternatively, why not enquire about our supply and install option.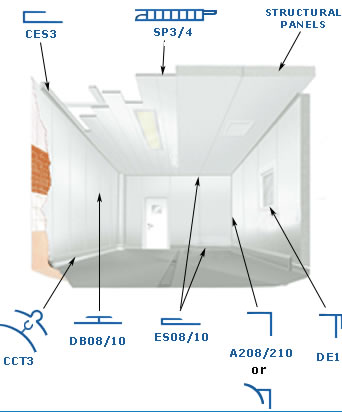 Get In Contact With Surface Solutions Today

Hygienic Wall Cladding & PVC Plank Ceiling Specialists
ADDRESS
Surface Solutions
(Hygienic Wall Cladding) Ltd
49 Crossley Lane
Mirfield
West Yorkshire
WF14 0JW
Company VAT no: 734598889
Company Reg: 3919725
CONTACT DETAILS
Telephone: 01924 498684
Email:
enquiries@surface-solutions.co.uk