St Aidens CE School
In Preesall, Lancashire, St Aidens CE School required wall cladding up to a height of 1.5m from the floor level. Using a 2 part jointing trim and a start and edge trim to the top edge, we achieved a great finish and a happy client.
Knutsford Sports Centre
Using a multipanel board, which is a timber board with a laminated front, we lined the changing room walls at Knutsford Sports Centre. In the shower area we used a vibrant "Lime Green" wall cladding, a true contrast to the "grey" multipanel covering.
Bournemouth University
Bournemouth University had refurbished their kitchen and we were tasked with supplying a 2 tone look to the wall cladding. The lower level used an "Altro" wall protection called "Fortis" and the colour was Battleship. Above this was a standard satin white sheet supplied by Beplas.
Another visually rewarding project to work on.
Hollywood Bowl – Bristol
We had an opportunity to combine 2 colours and digiclad on this project. The male toilets required a dark grey cladding with a Clint Eastwood image around the sink area. The female toilet asked for a vibrant pink wall cladding and a Marylin Monroe image. With thanks to Beplas for providing the materials.
AES Seals
We were asked to provide a pastel grey sheet to line the walls of numerous toilet areas at AES headquarters in Sheffield. Beplas provided us with the materials from their pastel range complete with a 2 part colour match joint trim providing a watertight easy clean finish.
Paragon Veterinary Surgery
In November 2017, we were asked to supply and install approximately 1400m² of wall cladding and wall protection at Paragon Veterinary Surgery, Wakefield. The specified supplier on this occasion was Bioclad and we used their Bioclad Antimicrobial sheet in 2 colours, white and seafoam. We also had a chance to work with their textured wall protection "Bioarmis". These products all required the "hot welded" system which provides a flush finish to the jointing of the seams.
Further to this, we were asked to provide and install corner protectors to the more exposed areas. A superb project to work on with a very rewarding, aesthetically pleasing, fully sealed finish.
St Wilfreds Swimming Pool
A rare opportunity arose where we were asked to line the walls to the perimeter of a swimming pool. Covering existing wall tiles to a height of 2.2m, St Wilfreds now have a sealed, watertight easy clean area.
STANLEY ROAD CENTRE, KNUTSFORD
A simple but effective fit out using 'Amber and White' combination for the accessible toilet. An eye catching fit out.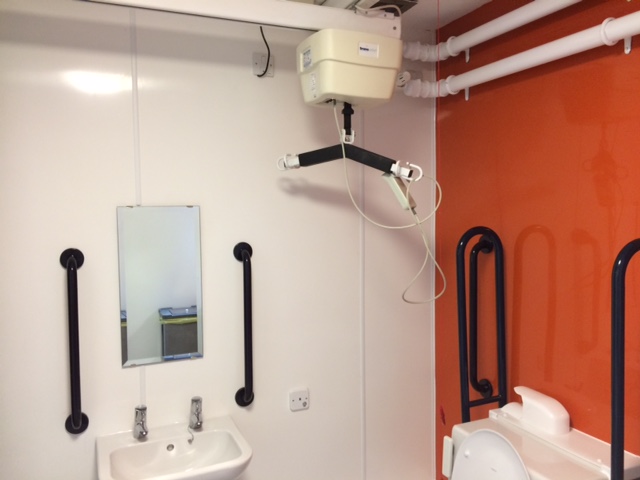 Get In Contact With Surface Solutions Today

Hygienic Wall Cladding & PVC Plank Ceiling Specialists
ADDRESS
Surface Solutions
(Hygienic Wall Cladding) Ltd
49 Crossley Lane
Mirfield
West Yorkshire
WF14 0JW
Company VAT no: 734598889
Company Reg: 3919725
CONTACT DETAILS
Telephone: 01924 498684
Email:
enquiries@surface-solutions.co.uk